This webpage is intended to try and capture as much history on the rally history of the Group A Type 85 Audi Coupe quattro as possible, and to make it available to everyone.
If you have any information on the rally history of these cars, and you want to share it, then please mail me at cq@kvquattro.com, and I'll make sure that it gets added to this page. I'd appreciate any corrections too......
NB : Page under construction and subject to frequent change
A5284 / 1986.01.01-1992.12.31 / 2226 cc / Audi Coupé Quattro
Rally Results for the Group A Coupe Quattro's
Gallery of various Group A rally cars
Geoff Keys' Group A CQ, Australia
UK Group A cars
This is an edited version of a post by "Booty" at classic-audi.co.uk
Two cars were built in the UK that were to compete under 'Group A' regulations for the 1987 Shell Oils British Open Rally Championship. Group A regs were that the manufacturer had to build at least 2500 cars so the FIA would homologate them.

* 4 wheel drive transmissions
* liter turbo charged engines (there's an FIA 1.7 engine displacement multiplication factor for turbo charged cars) using a 34mm turbo restrictor
* Front mounted engines (longitudinal or transversal)
* inimum weight of 1230 Kg
* Active differentials
However there were some modifications allowed by the FIA..which were.....

* Full suspension geometry and layout. The original mounting points must be preserved within a 20mm radius
* Engine internals including camshafts, crankshaft, valves. Other engine components can be machined. The engine bloc must be preserved
* Engine peripherals (Radiators, intercoolers, ...)
* Engine management
* raking system
* Gearbox, gear ratios, number of gears and gear selection type
* Differentials
* Final drive ratio
* Electric equipment

So, as I was saying David Sutton built 2 cars, for Audi Sport UK, both left hookers and registered on the Isle of Man, as you could not get type approval in this country at the time for left hookers.
44 XMN was the first to be built and used and ran in the traditional 'Shell Oils' livery. Engine was standard 2226cc and were built by Schmidt Motorsport in Germany, and crated over to Suttons workshops, but they ran with a higher compression engine and ran on special fuel ( Toluene and Av-gas). This car ran a BHP of around 200bhp. It competed in six rallies in 1987.
The National Breakdown Rally - Yorkshire
Circuit of Ireland
Fram Welsh - Wales
British Midland - Scottish
Ulster Rally - Northern Ireland
Manx rally - Isle of Man

David Llewellin was the man behind the wheel and he was co driven by Phil Short. He did well to be honest getting the absolute maximum from the car but the problem was it was 100bhp behind the Sierra Cossies that had debuted in 1987 under Group A rules. The final rally of that year was the Lombard RAC and for this, David Sutton built a new car. MAN 44A was pretty much the same as 44 XMN but ran a different livery being the Shell Gemini blue colour scheme. Llewellin was co driven by Short again and they came 7th overall, but a technical infringement meant Per Ecklund was disqualified in his Coupe quattro for having an oversize inlet manifold. So they ended up sixth in the end. Glyn Jones, who was a neighbour of Llewellins, also used 44 XMN as a privateer on the same rally but was not placed. MAN 44A car went on into private ownership not long after as Audi pulled out of Rallying in 1988.

44 XMN was crushed and no longer exists but MAN 44A is now owned by Dave Preece and is still demonstrated when he gets the chance, he has sympathetically restored the car but has kept most of the orignal bits.

44 XMN on the National Breakdown Rally.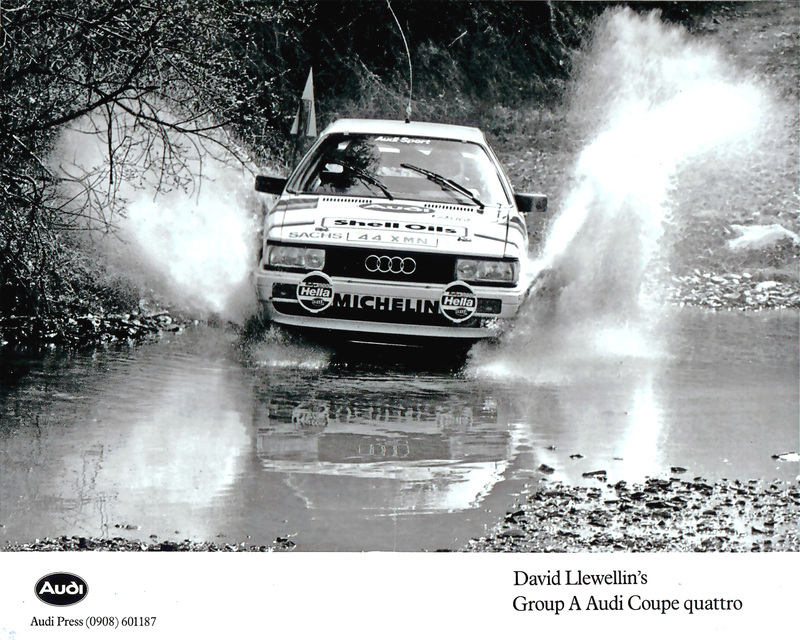 44 XMN on the Fram Welsh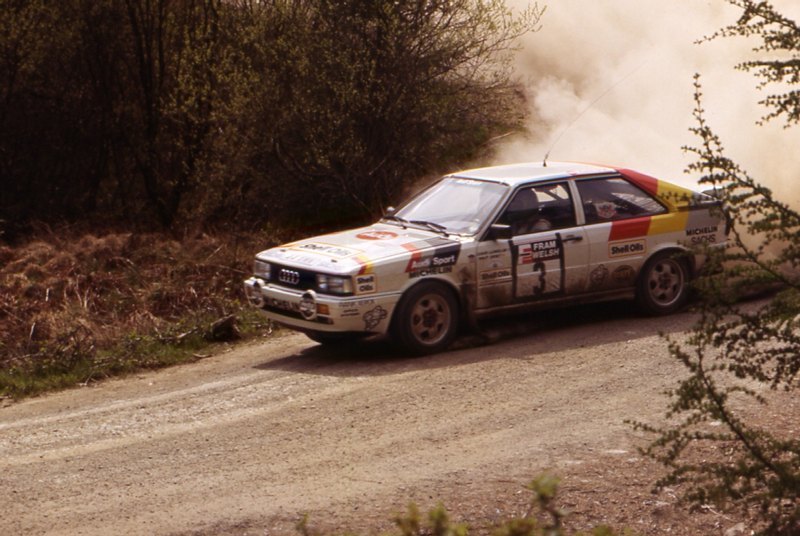 44XMN, Excert from the 1987 Circuit of Ireland Rally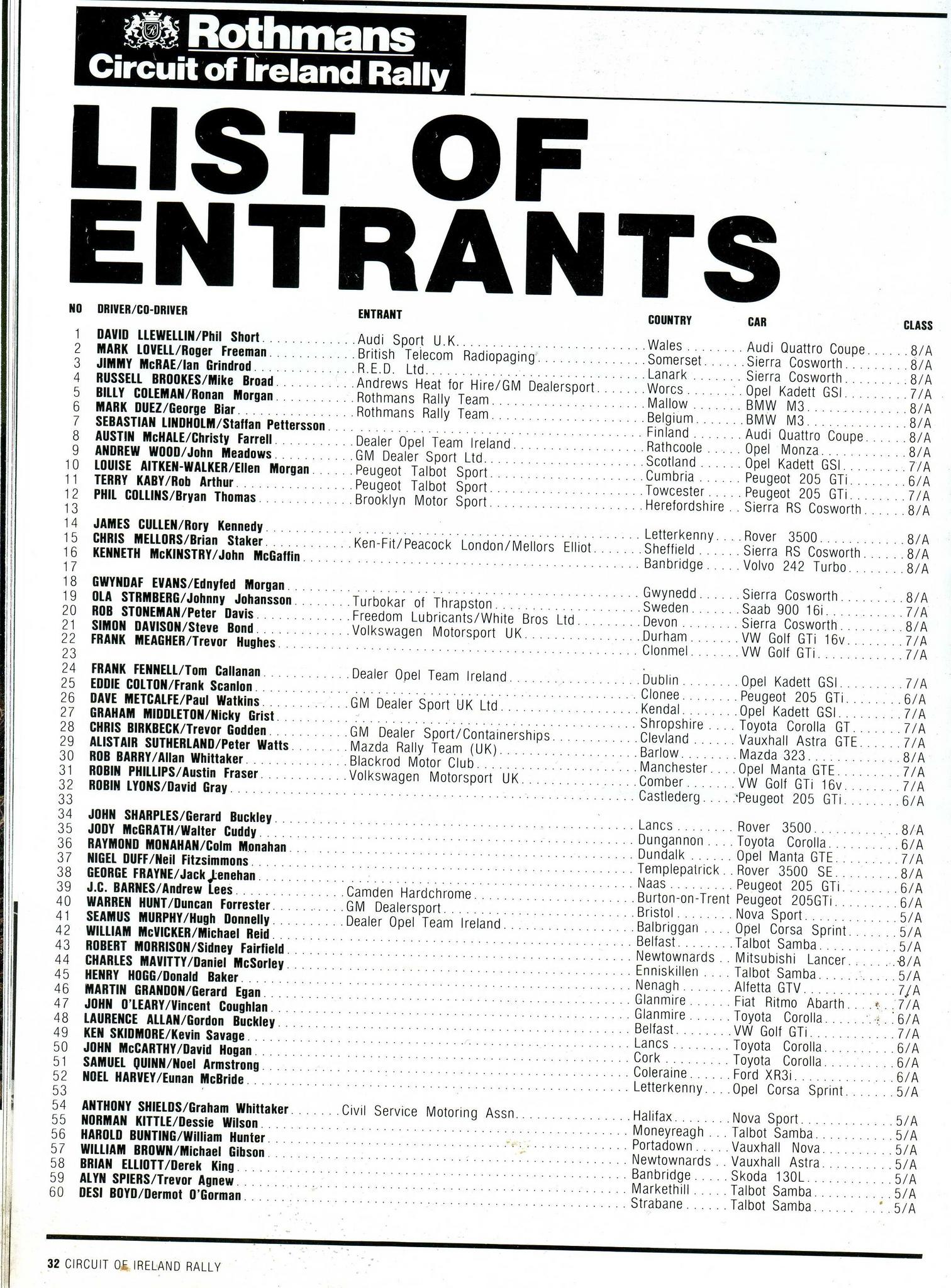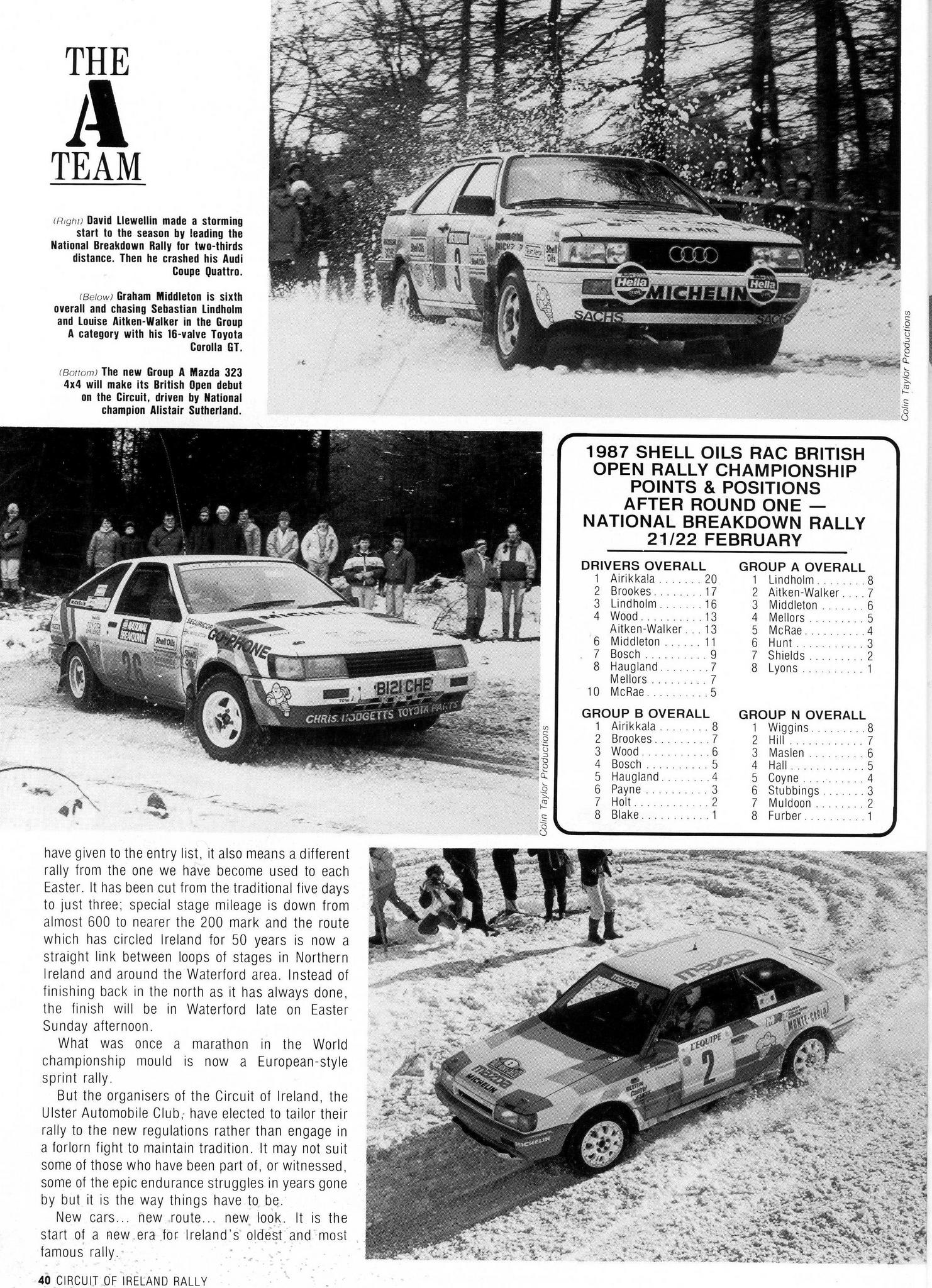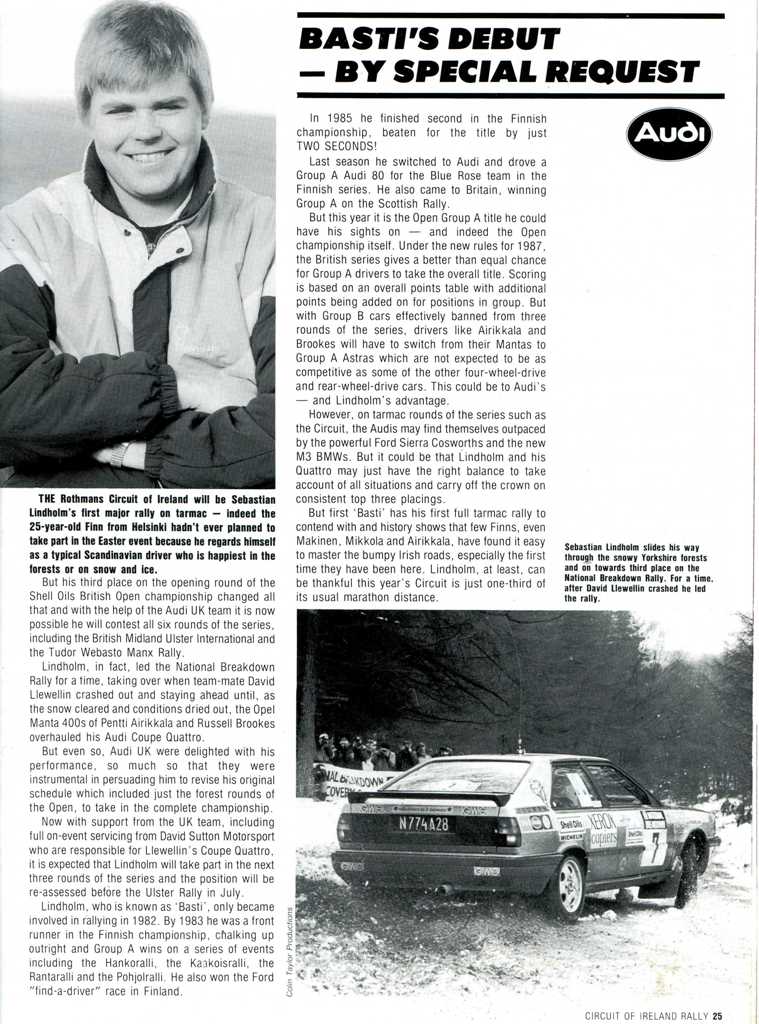 MAN 44A at Chatsworth in 2007.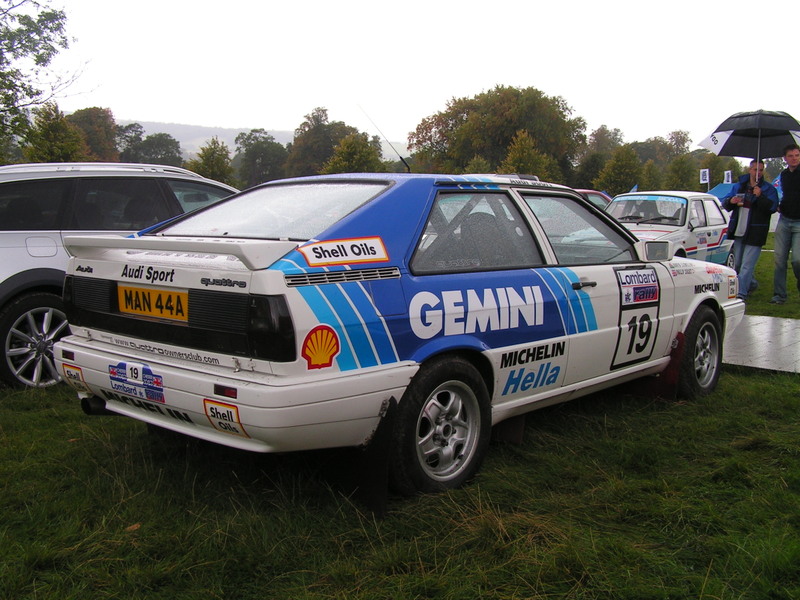 Postcard showing 44 XMN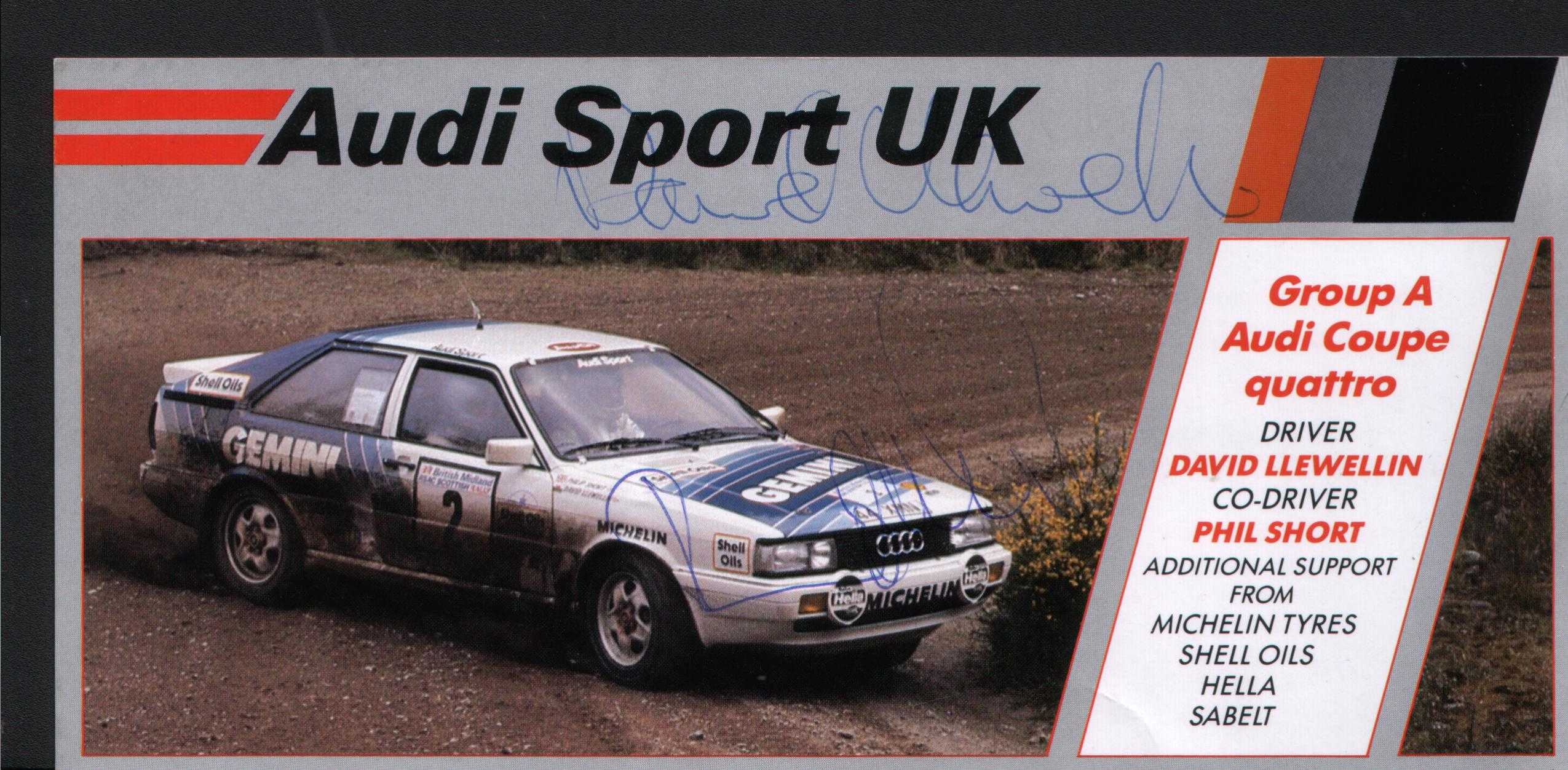 Other side of Postcard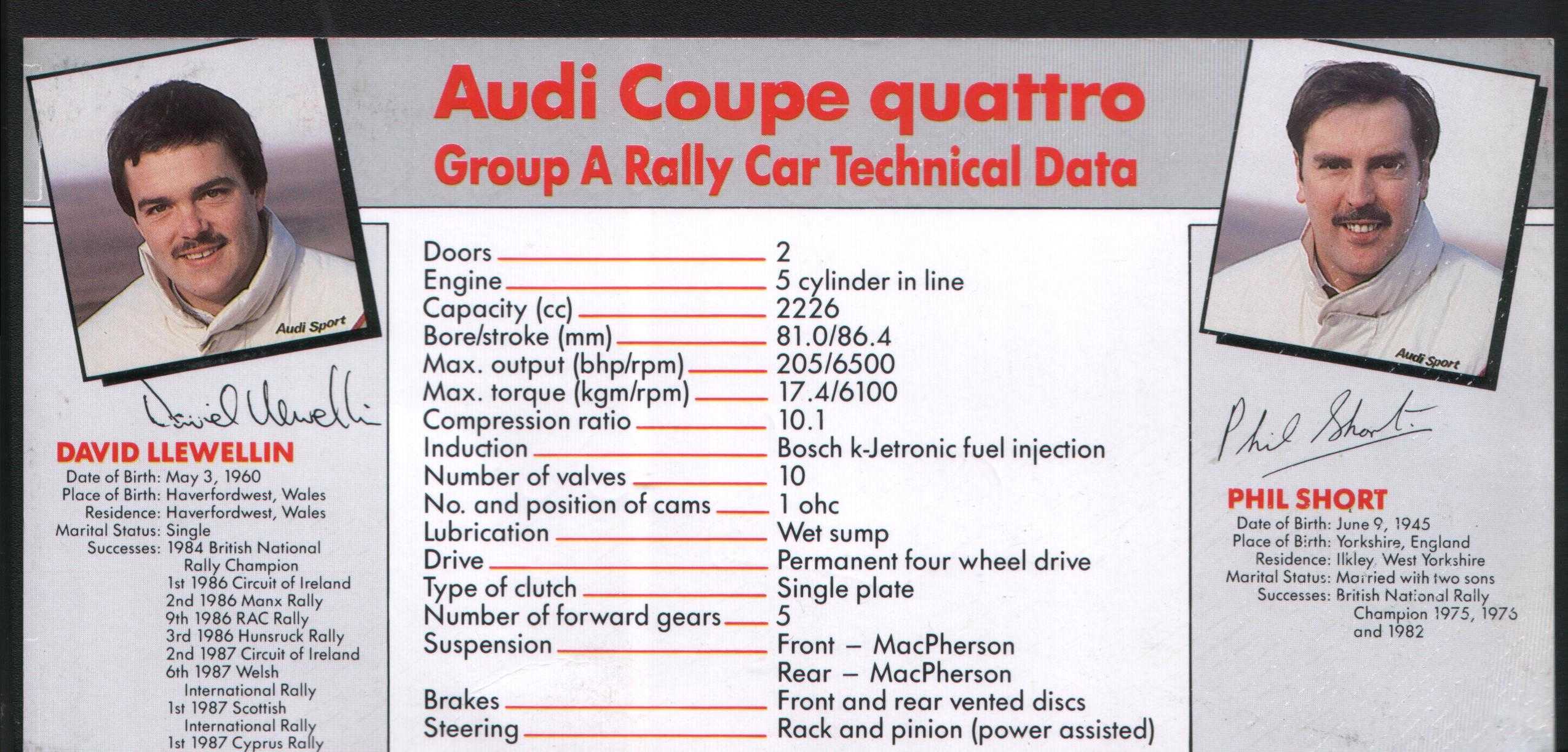 Per Eklund's Team in the 1987 RAC Lombard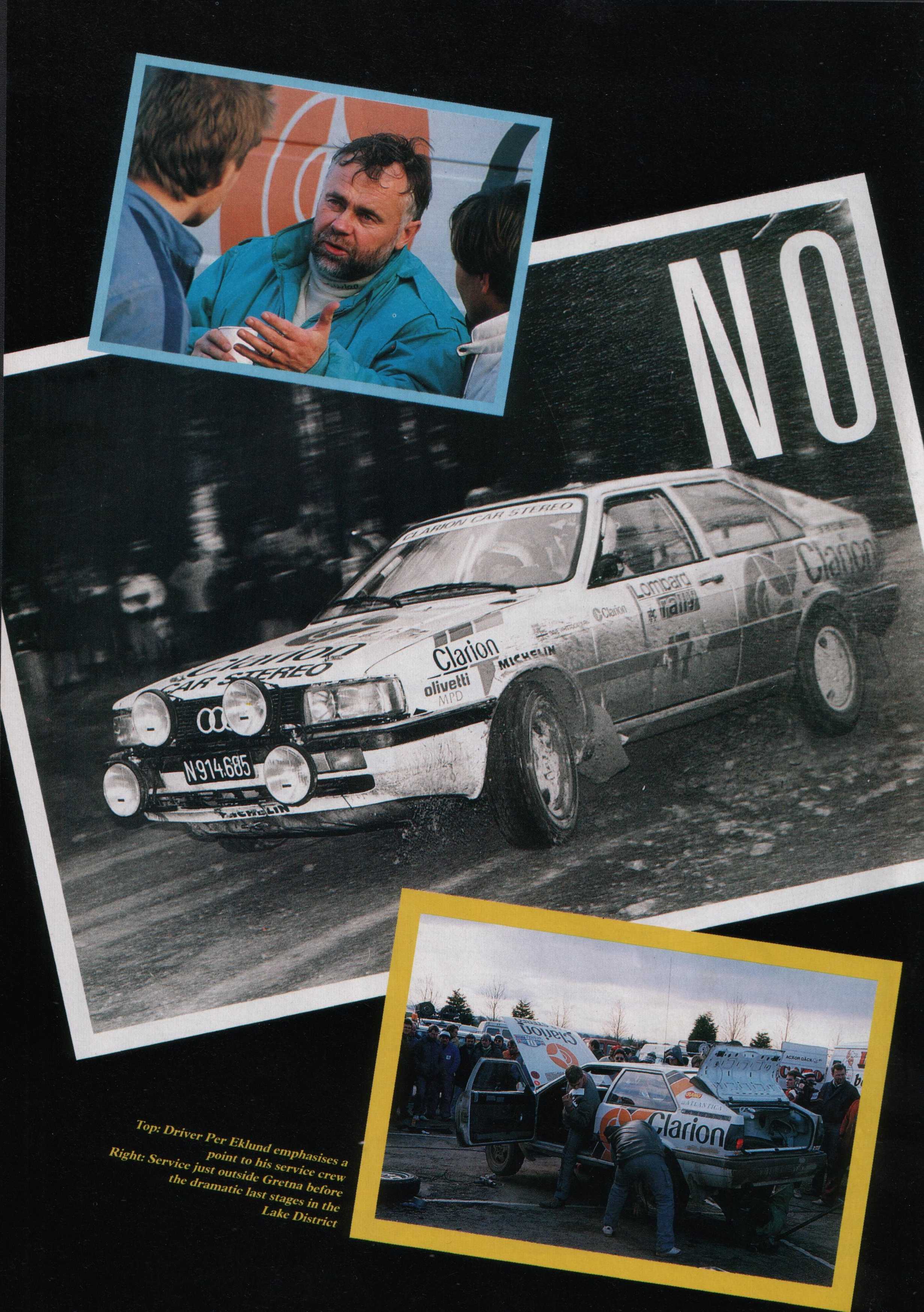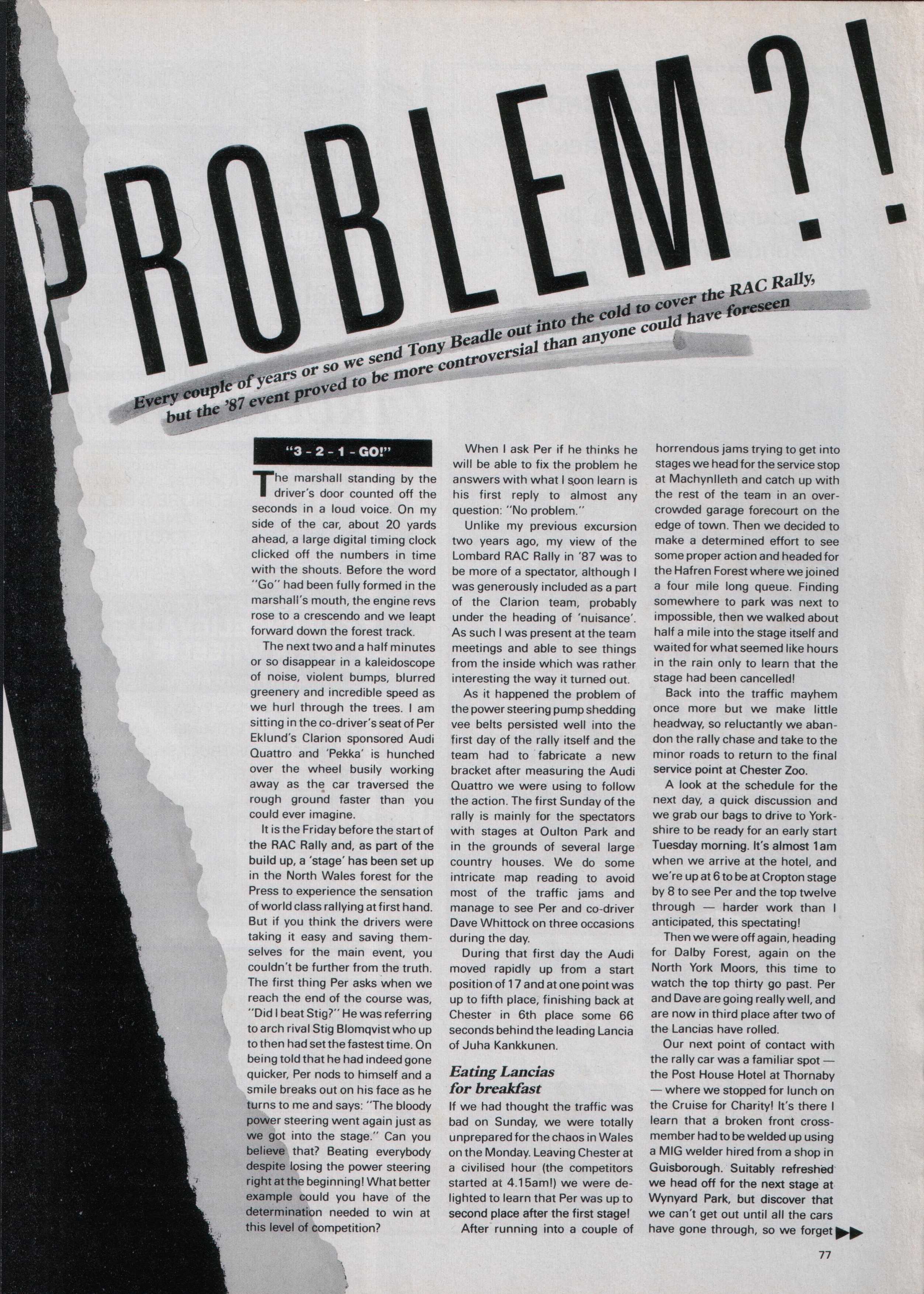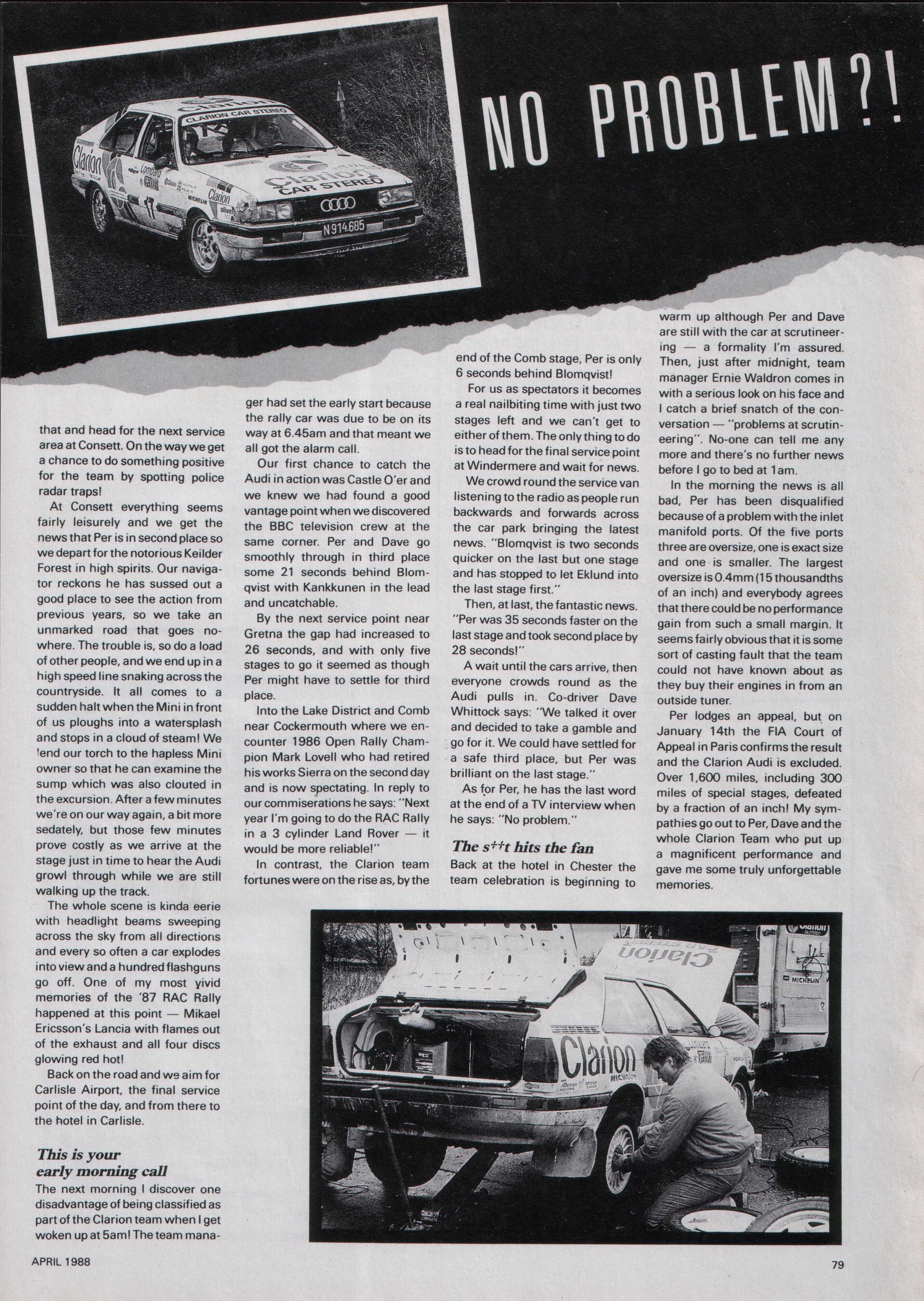 Article on a French Group A Coupe quattro (anyone volunteer to do a full translation?)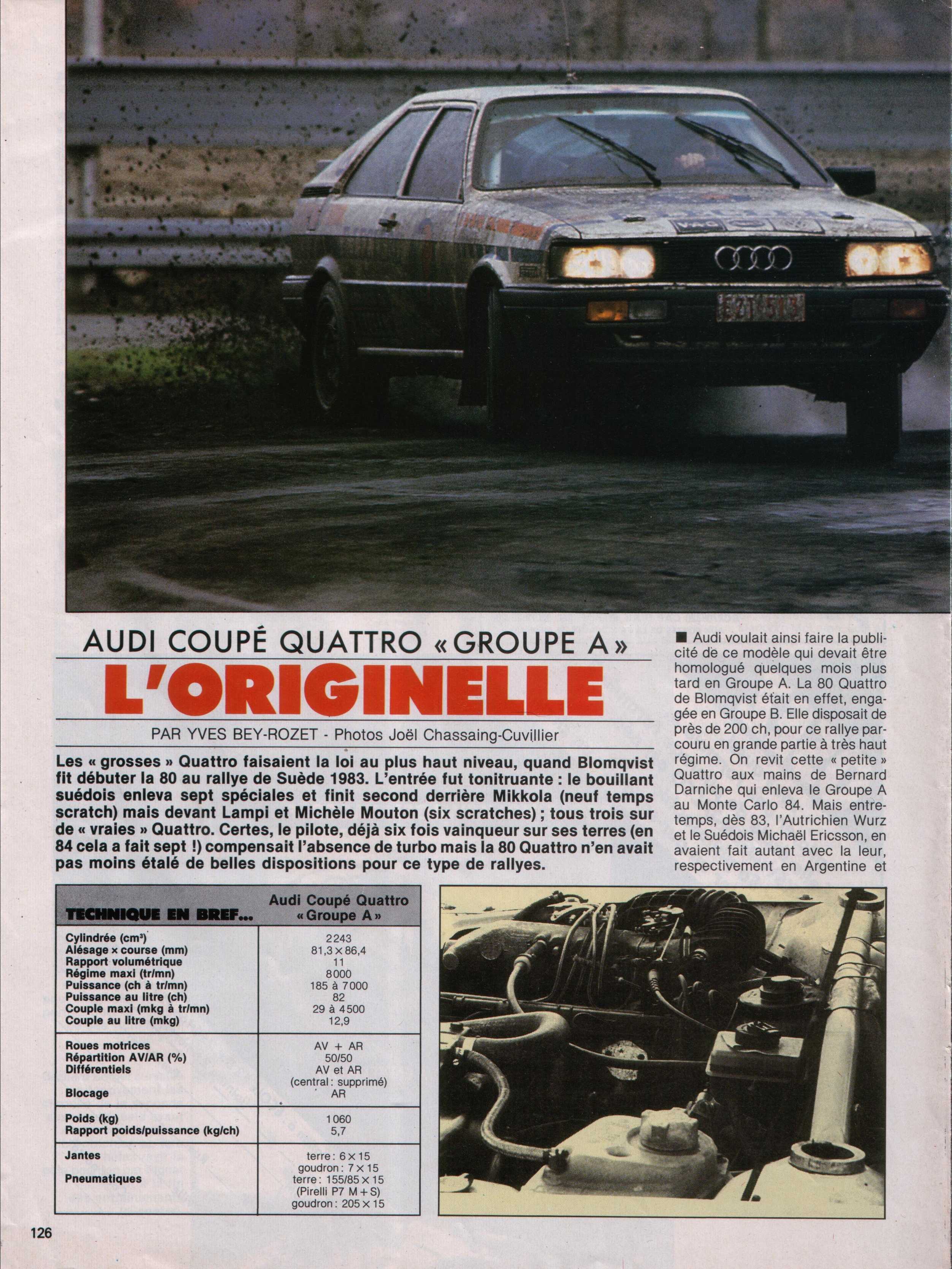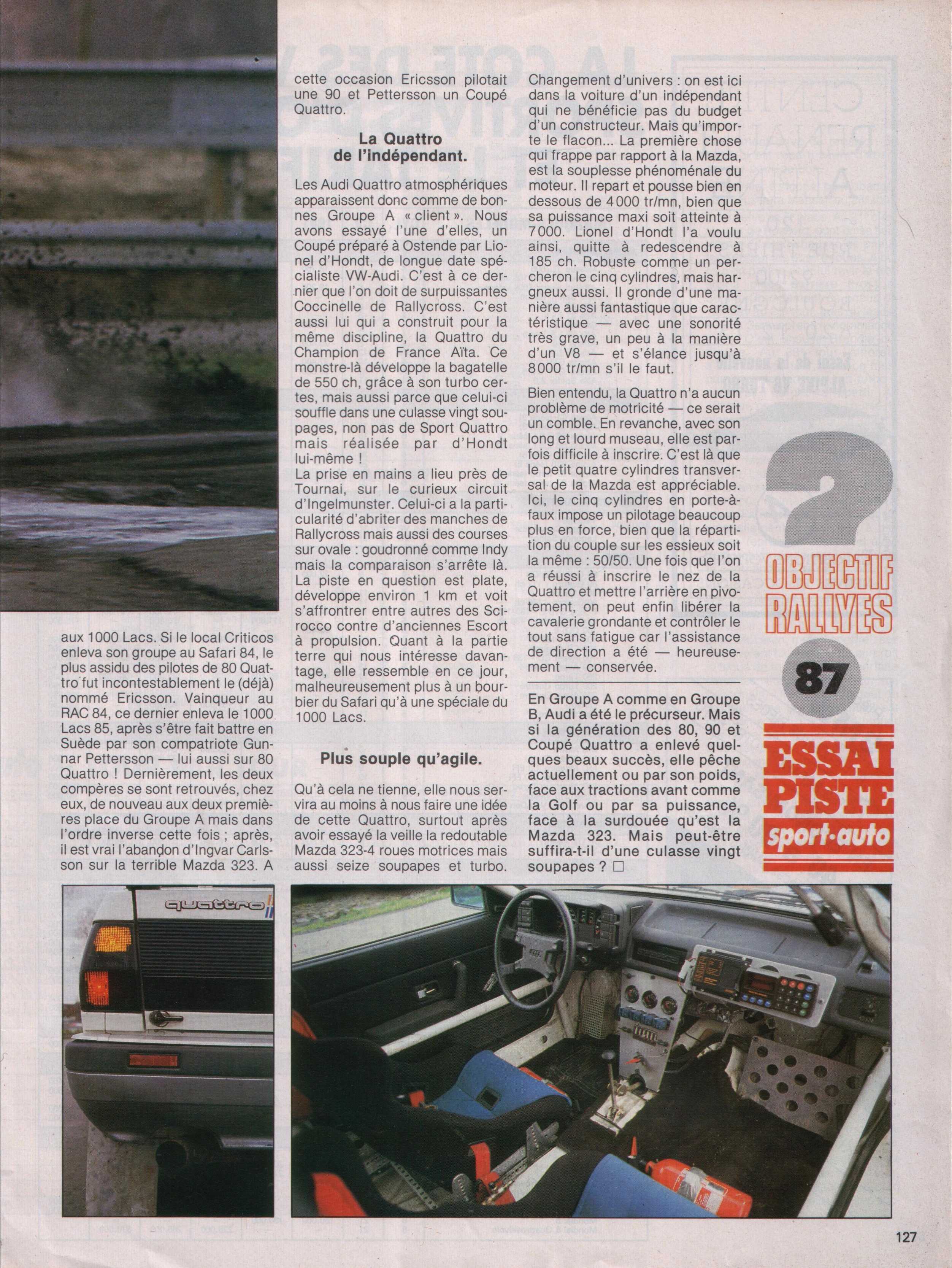 USA Group A cars
from ts rennsport at motorgeek.com
John Buffum and Neil Wilson used a Grp A Coupé GT type 85 quattro in the 1987 Olympus Rallye in Washington State, USA. It didn't last long and was rolled soon afterward. This photo was from John Buffum's personal library (Thanks John). See page p-12 In John's "In Like A Lamb, Out Like a Lion" book.

http://www.johnbuffum.com/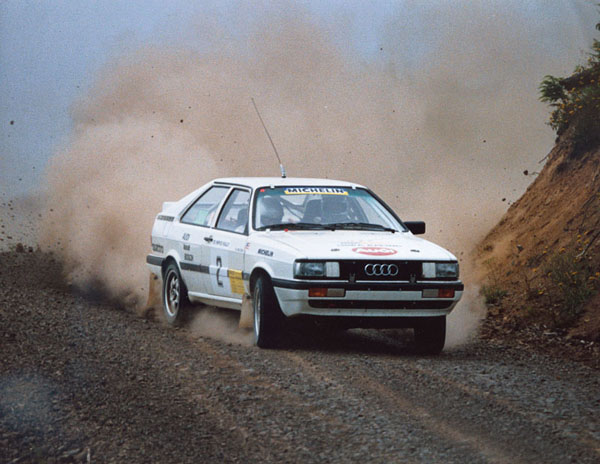 Other Group A cars

http://www.rallye-info.com/carspecs.asp?car=54


Death of a Coupe quattro.......
A Czech rally CQ

http://old.czechrallyeweb.net/images...a1988kolev.jpg
http://www.barum.rally.cz/2005/soutezici/guide1_gb.pdf

http://www.latvalamotorsport.com/jari_ukhistory1.htm


From Wikipedia


"1986 marked the only season in which the FIA issued the World Championship for Drivers of

Group

A Cars. Swede Kenneth Eriksson, driving a Volkswagen Golf GTI 16V took the title ahead of Austrian Rudi Stohl in his Audi Coupe Quattro, a lower powered version of the

Group

B Quattros. This championship became unnecessary in future years due to the elimination of

Group

B cars. From 1987 onwards,

Group

A cars would be the vehicles used by drivers competing for the main World Rally Championship for Drivers."
Mainland Europe Group A cars
from LordFritz at http://www.razyboard.com
Hello James,

at first, my congratulations for your unique website.
Never before I saw a collection like this on the internet.

You're looking for Information about the group A Coupe Quattro.
I was given the lucky opportunity to examine both the cars of David Preece (ex. Llewellyn/Short) and Armin Schwarz (Schwarz/Hösch).

Schwarz' car is in absolute original condition today, and still in his ownership.
Preece's car seems to have undergone different changes in it's life, but is still an authentic car with all the great Audi Sport drivetrain and suspension parts.

These cars were, if you search through the history of rallying from 1985 to 1990, surprisingly often used. And if they didn't give up by technical problems, they usually reached a good placement.

The technical details are most common, an detail you don't find to often on internet recources is the high compression ratio of about 12:1
While the "old" 10V Engines of Gr.2 and Gr.A (Bore 79,5 mm, 2,1L displacement) did their nearly 200 Horsepower at speeds around 7500 rpm, the "new" Gr.A Engine produced its raw power around 6500 rpm.
That's astonishing if you consider the fact that there were used the standard inlet and exhaust manifolds. They were modified of course, but they based on stock parts, as also the k-Jetronic injection system.

Some time ago I collected a (surely incomplete) number of victories and top three placements of these coupe quattro:

1987:

Barum: Ferjancz/Tandari – Audi Coupe Quattro
Bohemia: Ferjancz/Tandari – Audi Coupe Quattro
Hanki: T. Heinonen/Eirtovaara – Audi Coupe Quattro
Hebros: Ferjancz/Tandari – Audi Coupe Quattro
Hellendoorn: Gunnar Pettersson/Schneppenheim – Audi Coupe Quattro
Lavanttaler Fruhlings: Fischer/Zeltner – Audi Coupe Quattro
Polen: Ferjancz/Tandari – Audi Coupe Quattro
Semperit: Recalde/Del Buono – Audi Coupe Quattro
Deutschland: Armin Schwarz – Audi Coupe Quattro


1988
Arctic: Heinonen/Eirtovaara – Audi Coupe Quattro
Gunaydin: Yerlici/Okan – Audi Coupe Quattro
Hebros: Ferjancs/Tandari – Audi Coupe Quattro
San Marino: de martini/Gibellini – Audi Coupe Quattro
RALLY DRAMMEN: 3). Bror Danielsson/Monty karlan – Audi Coupe Quattro
Neuseeland: Nr. 3 - Malcolm Stewart/John Kennard – Audi Coupe Quattro
Olympus Rally: Nr. 3 - John Buffum/John Bellefleur – Audi Coupe Quattro
Svenska Rally: Nr. 3 - Lars-Erik Torph/Christina Thörner – Audi Coupe Quattro

I have another list, but unsortet, with Audi Coupe fwd. and awd used over the years from 1982 th 1990.
Apart from these lists, there might be many many more cars used in rallying over the years, until today (i.e. in sweden).

Here a foto brought to you by www.rally3.de
It's from 2007, Eifelrallye in Germany, it's the car Armin Schwarz made his first season victory in professional rallying.
Here, driven by Quirin Müller:




Fischer/Zeltner:
- 1987 4th place Waldviertelrallye
- 1987 1st place1 Lavanttal Rallye
- Österreichischer Staatsmeister 1987




A good resource for photos of these cars is the site of Oliver Steffes-Tun:
http://www.sto-rallyefotos.de/
In sweden there's a man named Conny Roloffson driving an audi coupé quattro in national rallying - very fast.
This might be an old group a car, or at last might have some technical details of these cars.

However, it looks good!



[source: www.rsbilab.se]

There's defnitly another Gr.A CQ in active rallying in sweden, but I'm sadly not knowing the name of its driver at the moment.
This car has even been one time in Germany to run the famous "Lausitz Rallye"

These Cars were driven at many rallyes.
When introduced, walter Röhrl got one for demonstational purposes as "Vorwagen" (Car that goes as very first through the stages for security), and declassed all the field by his speed and stage-times.
:D

Apart from the already named drivers, other popular drivers on Gr. A CQ were, for example:
- Oliver Schmidtke
- Bernhard Munster
- Lasse Gundler
- Michael Ericsson
- Timo Heinonen
- Sebastian Lindholm
- Marc Duez
- W. Röhrl

Some video footage:

Röhrl in CQ (0:47)
http://video.google.de/videoplay?docid=8996506517343565309

Rallye-Köln-Ahrweiler 1987 (1:40)
http://video.google.de/videoplay?docid=1995066946709489496

no Gr. A CQ, but 80Q and very nice scene (0:47)
http://video.google.de/videoplay?docid=2258109376272593410

Hunsrück Rallye 1987, Schwarz in CQ (0:16)
The second CQ, Ericsson? Gundler?
Also Bernhard Munster ran this rallye, but isn't presented in this trailer.
http://video.google.de/videoplay?docid=5272711687277771895

Circuit of ireland 1987
http://www.youtube.com/watch?v=xX8LWEmDtSw

http://www.youtube.com/watch?v=h7NnaxFw8M0
http://www.rallybuzz.com/circuit-of-ireland-1987/

Search for "audi coupe quattro" on this site
http://www.sto-rallyeshop.de/pics/index.php?language=en

Audi Sport Italy

With gratefull thanks to Audi Sport Italy for the following history, photos and magazine articles
As you look mainly interested in what Llewellin accomplished with Audi Sport Europa Team (the name by which our outfit was known at the time) I've thought that you may wonder how it happened that he dropped at our shop to pick one of our rallying Audis... Steve Bucknall --then Audi/VW Uk mastermind--- tipped David at fellow team principal Emilio Radaelli, who had just shelved his recce and notes books for managing the fledgling team, established in 1984 to compete in Continental and domestic events. Llewellin happened to try the Italian waters in 1985, the idea was to expand his experience outside UK and eventually launch a European bid, with support from Audi UK --and possibly Ingolstadt. Llewellin was entered at the San Marino gravel round in a Group A Audi 80 Quattro. The latter was a model that ASET was quite successful with, posting a win in the domestic series and a host of class wins against the semi-works Fiat Ritmos entered by mighty Totip Jolly Club. He took the opposition by storm and won the class at San Marino and picking a 3rd outright place in the process, getting the upper hand over from Federico Ormezzano's Opel Manta Group B in the final leg.
David came back to Italy for selected events after that in 1985 and 1986, including a Sanremo lackluster outing. According to our records and clippings he put his hands on one of ASET Coupe Quattros for the first time at popular Monza Rally, in December 1986, when he won again the Group A. I've attached a clipping which includes a faded pic from that event.
Monza Rally, 1986
David was back in the same car in mid-March 1987 to take part to San Marino.
He picked up the 3rd place, 4 minutes and half adrift of Belgian winner Patrick Snjiers' Lancia Delta. Far from bad taking into account that for long he was more toiling than pushing due to clutch troubles, after an oil leak from the gearbox. Nevertheless he wound up right in front of another Coupe Quattro, this driven by Finn Timo Heinonen, who was unimpressive in spite of arriving at San Marino with a fresh home win in the winter European round renowned as Snow Rally under his belt.
One week later David took part to the Mille Miglia Rally, this time retiring after limping through SS 7&8 with a front right half-shaft broken.
22-24 April was the time of the then ritzy and glitzy Costa Smeralda Rally. Llewellin was entered in a different car from the San Marino one, and he put in a flawless effort, occupying steadily 3rd place from the middle of Leg 1, taking on a serious opposition. Juha Kankkunen won the Martini-sponsored rally in front of Jolly Club-entered Dario Cerrato. Llewellin was therefore the best non-Lancia driver, trailing the Finn by 6 minutes and 43 seconds. At that event ASET entered another Audi for the Alessandrini brothers, who claimed 4th there and later on wound up setting up their own team, en route to becoming World Rally Championship regulars.
Costa Smeralda report from UK'sAutosport
Costa Smeralda's unforgettable blue sea frozen in time alongside the Audi Sport Europe Coupe Quattro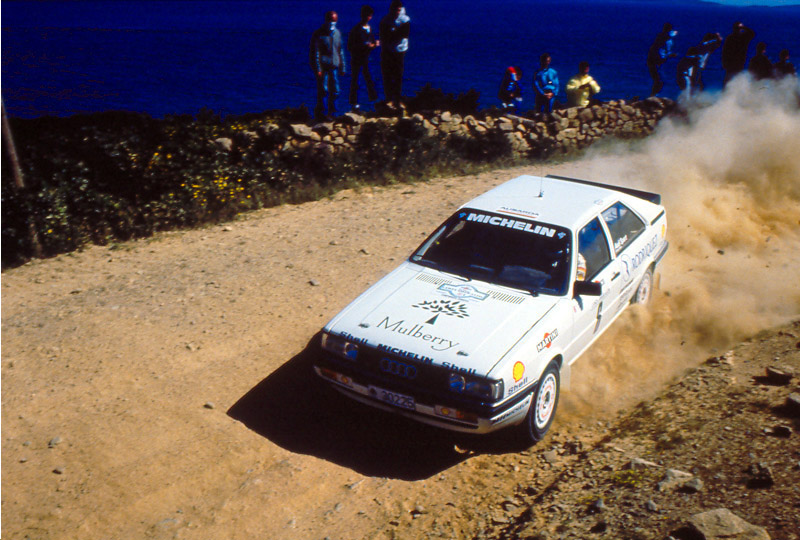 David did not post other outstanding results in ASET cars --whereas he did so in Audi UK's cars, of course. Nevertheless the Costa Smeralda car went on to become a mainstay of our team rallying effort, as Michele Rayneri, Paolo Alessandrini and others drove it successfully. Rayneri at Costa Smeralda 1988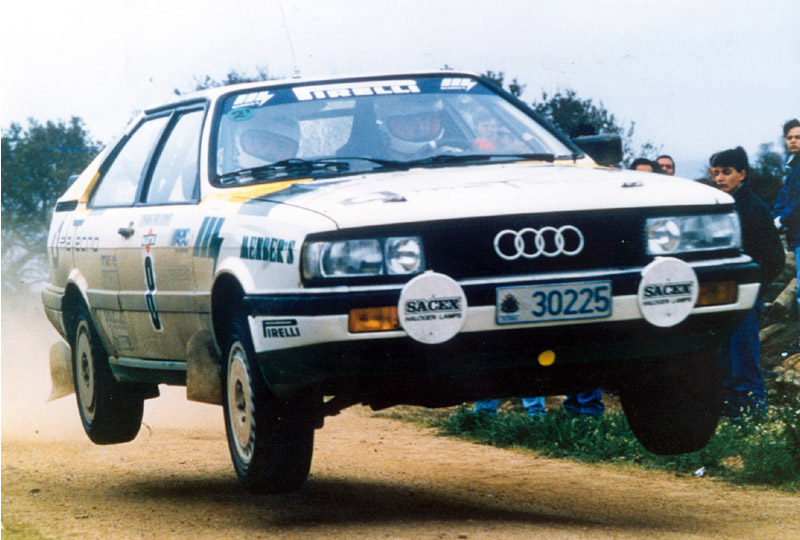 Alessandrini charging through Halkidikis Rally gravel stages in 1988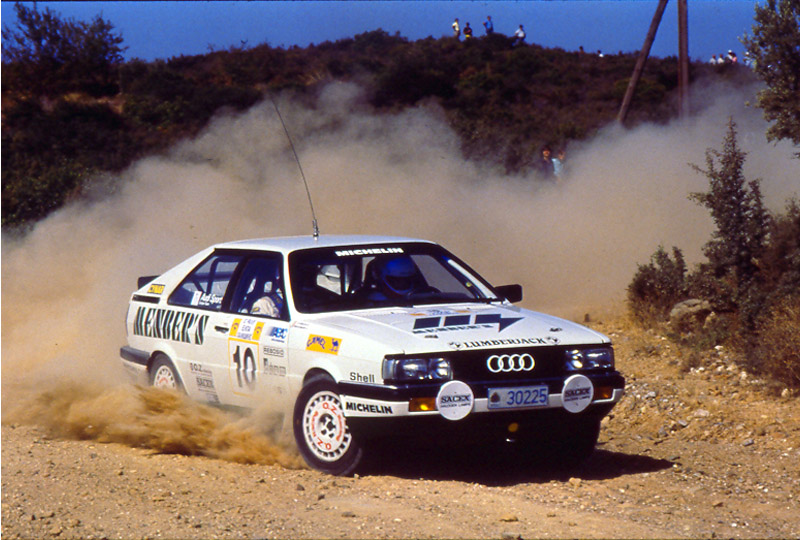 But the most unforgettable event for the former Llewellin car was definitely Paola De Martini outright win at San Marino, the Lady was in top form in 1988.
Her gritty style at the Catalunya Rally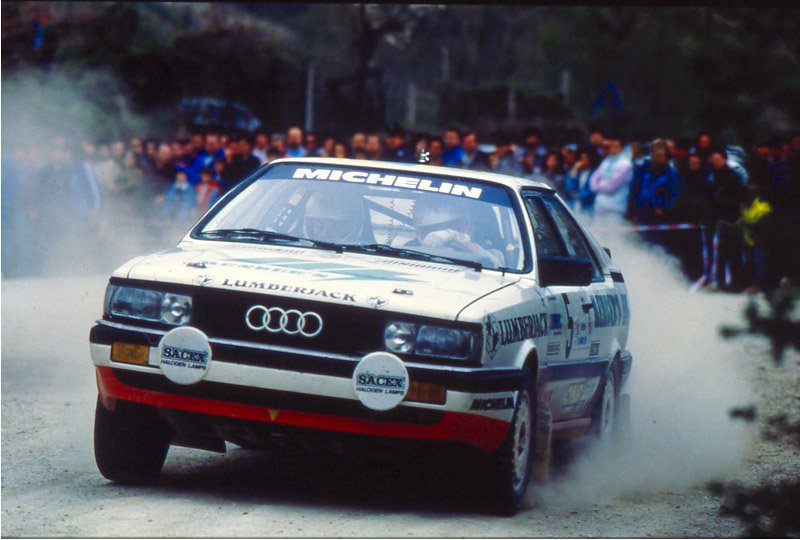 San Marino
Paola De Martini and Umberta Gibellini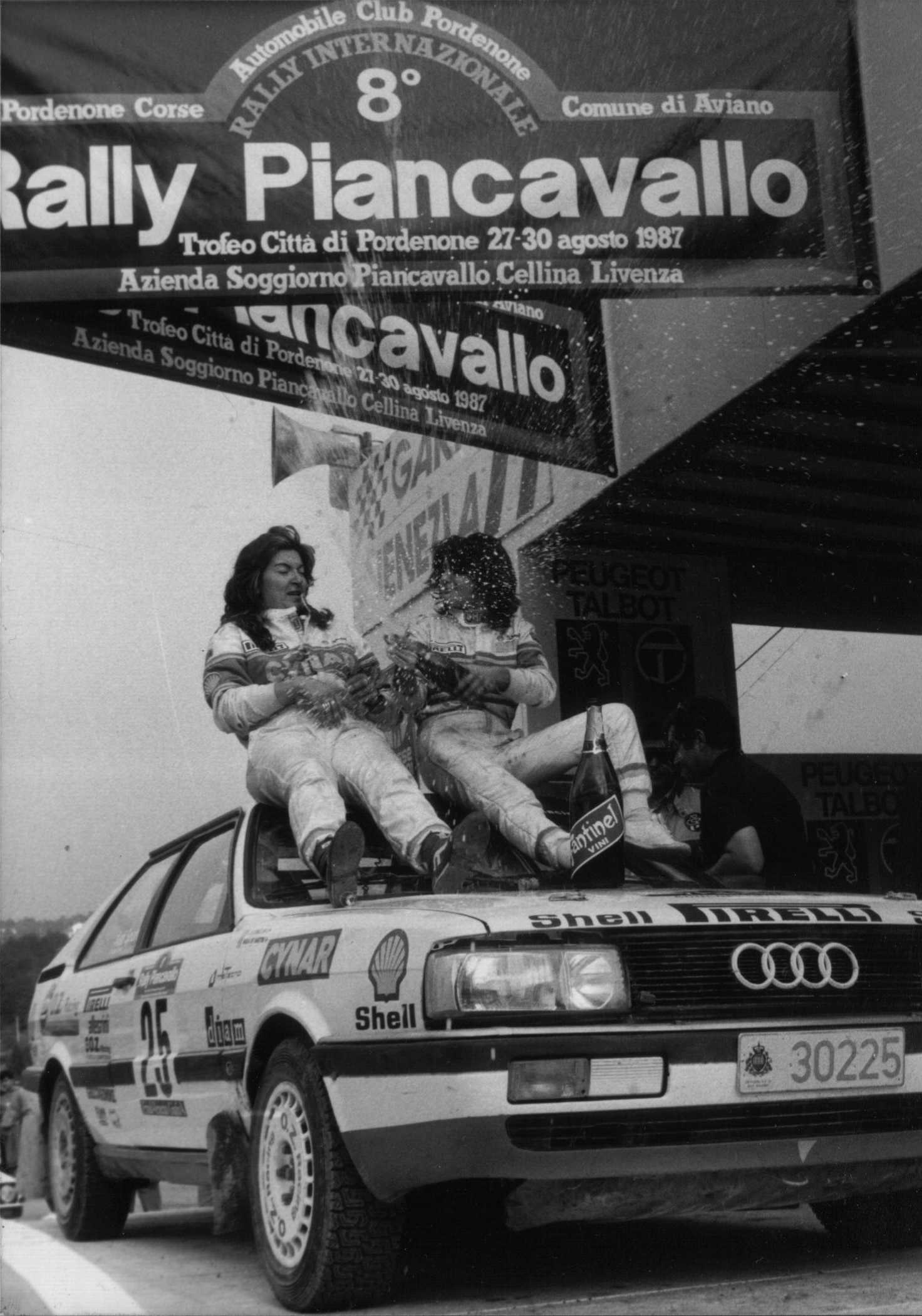 David Llewellin and Phil Short, Rally Costa Smeralda 1987, Audi Sport Europe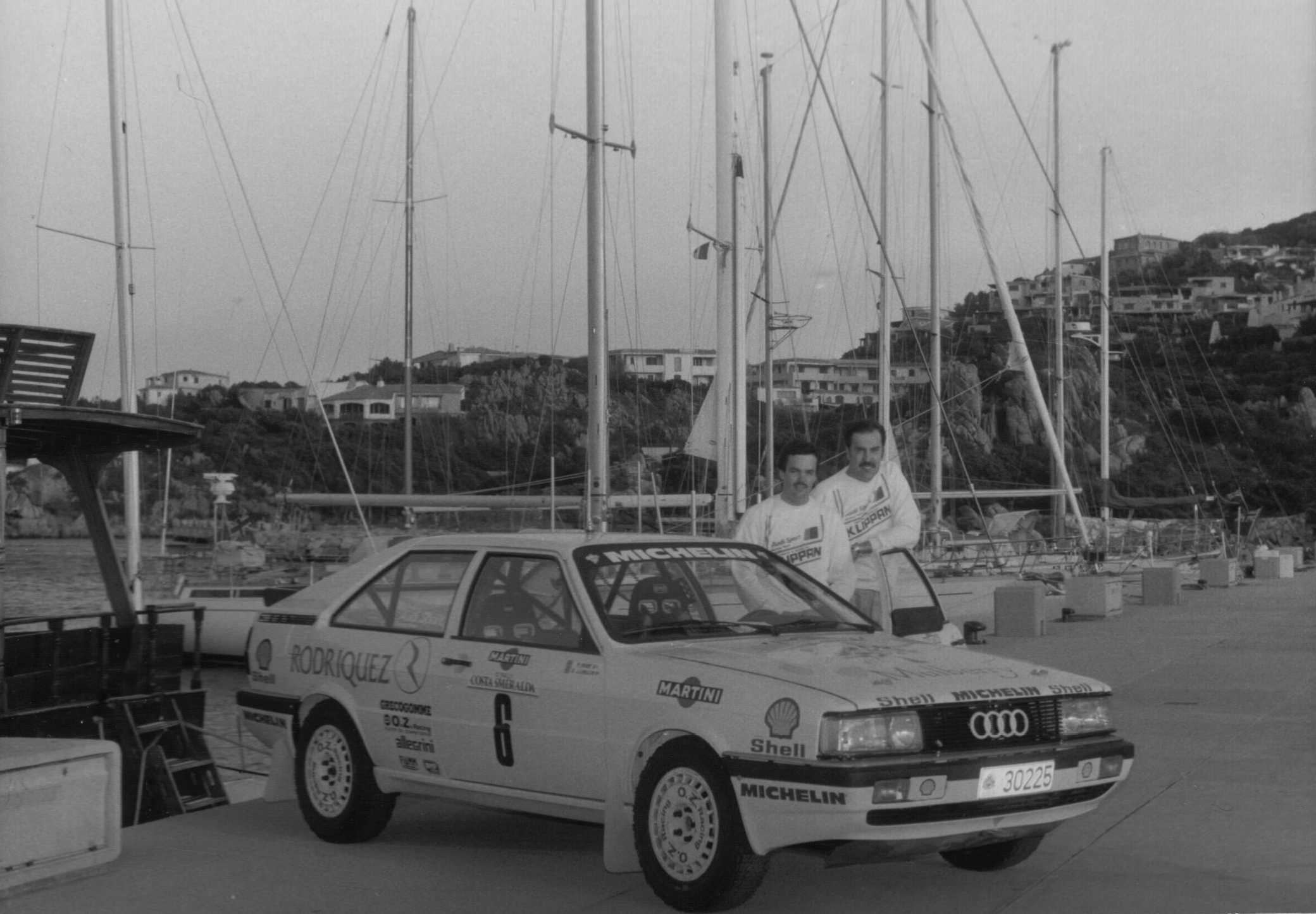 Alessandrini-Alessendrini, Rally Costa Smeralda 1987, Audi Sport Europe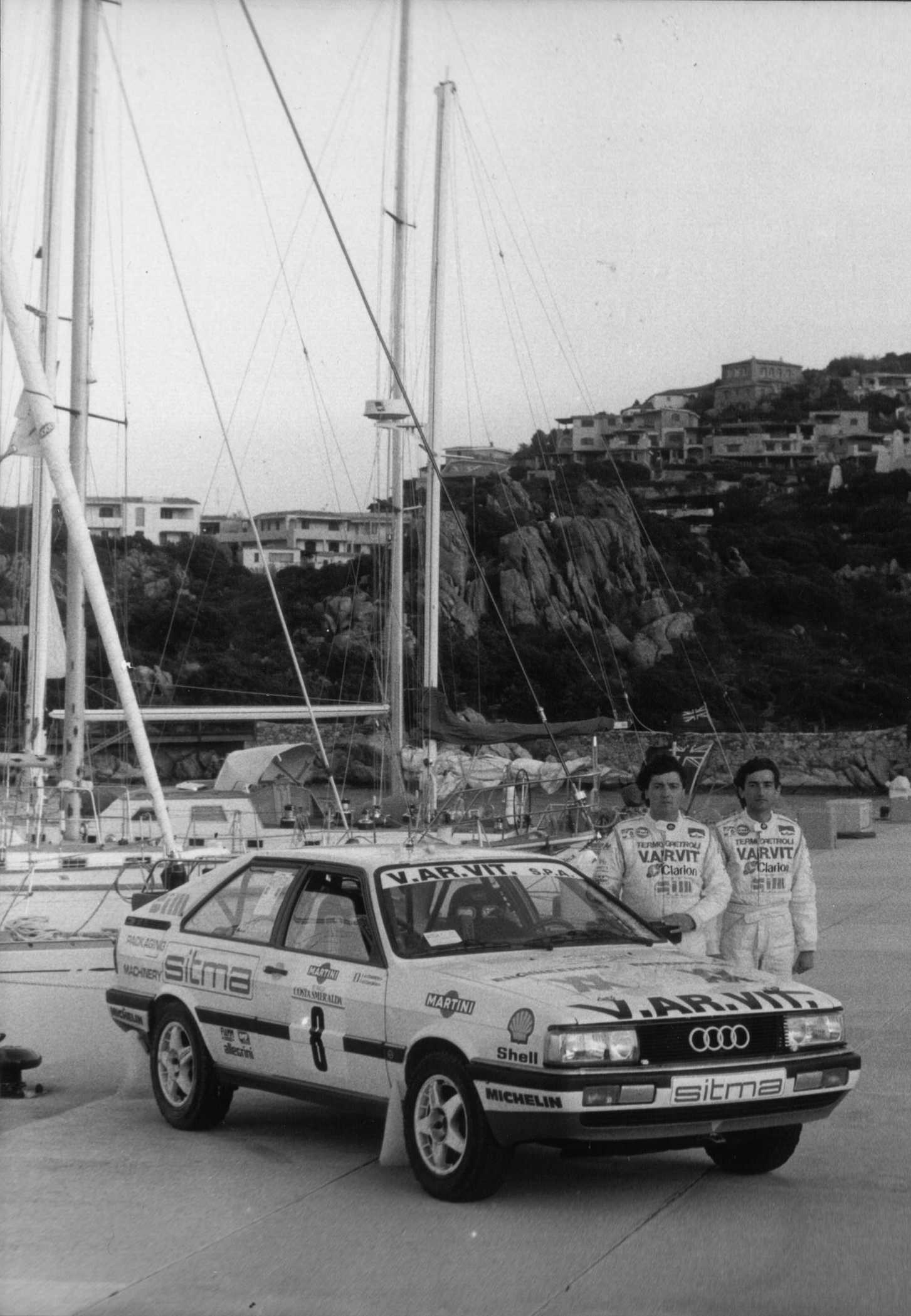 Alessandrini-Alessendrini, Rally Costa Smeralda 1987, Audi Sport Europe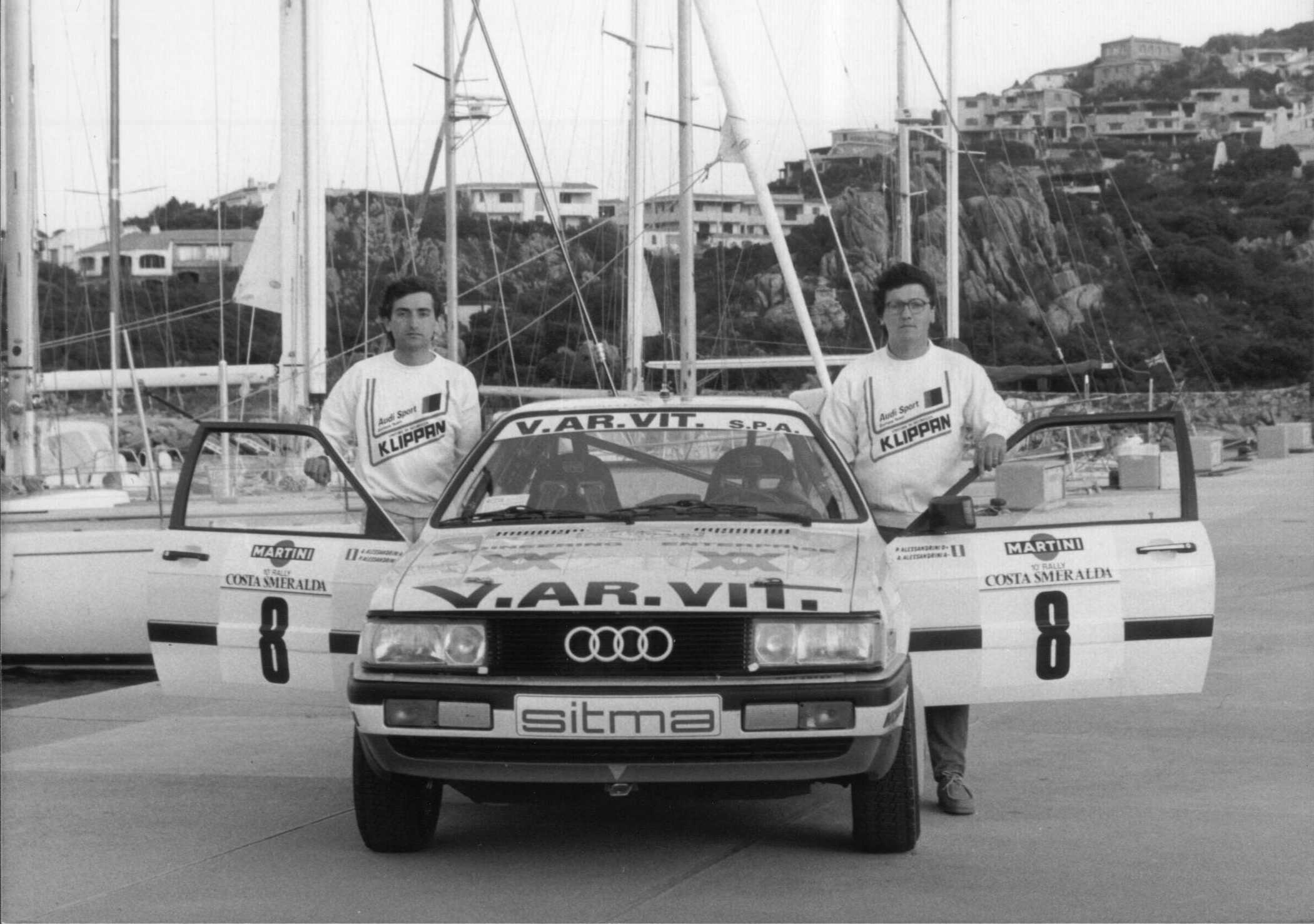 David Llewellin, Audi Sport Europe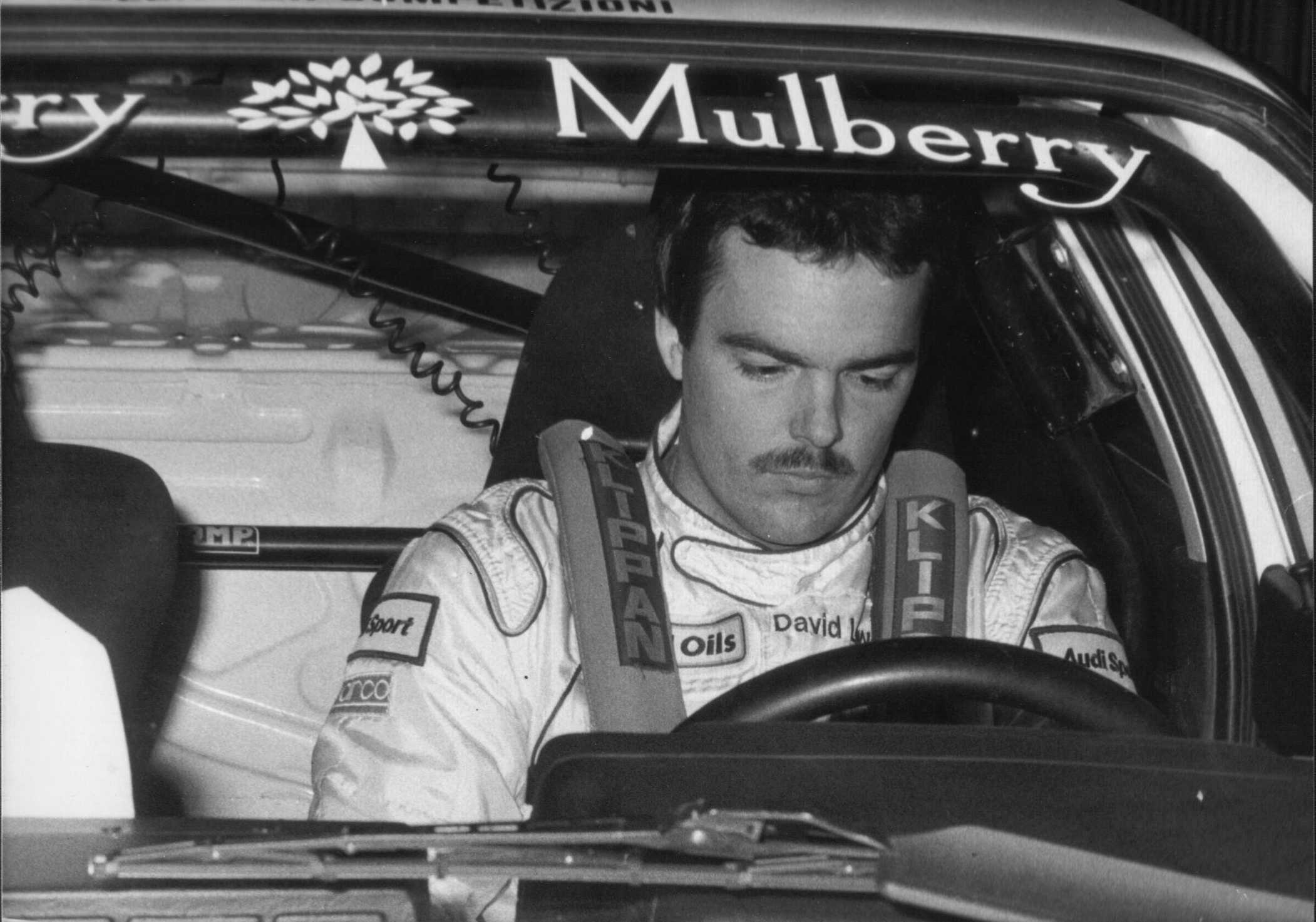 David Llewellin and Phil Short, Rally Costa Smeralda 1987, Audi Sport Europe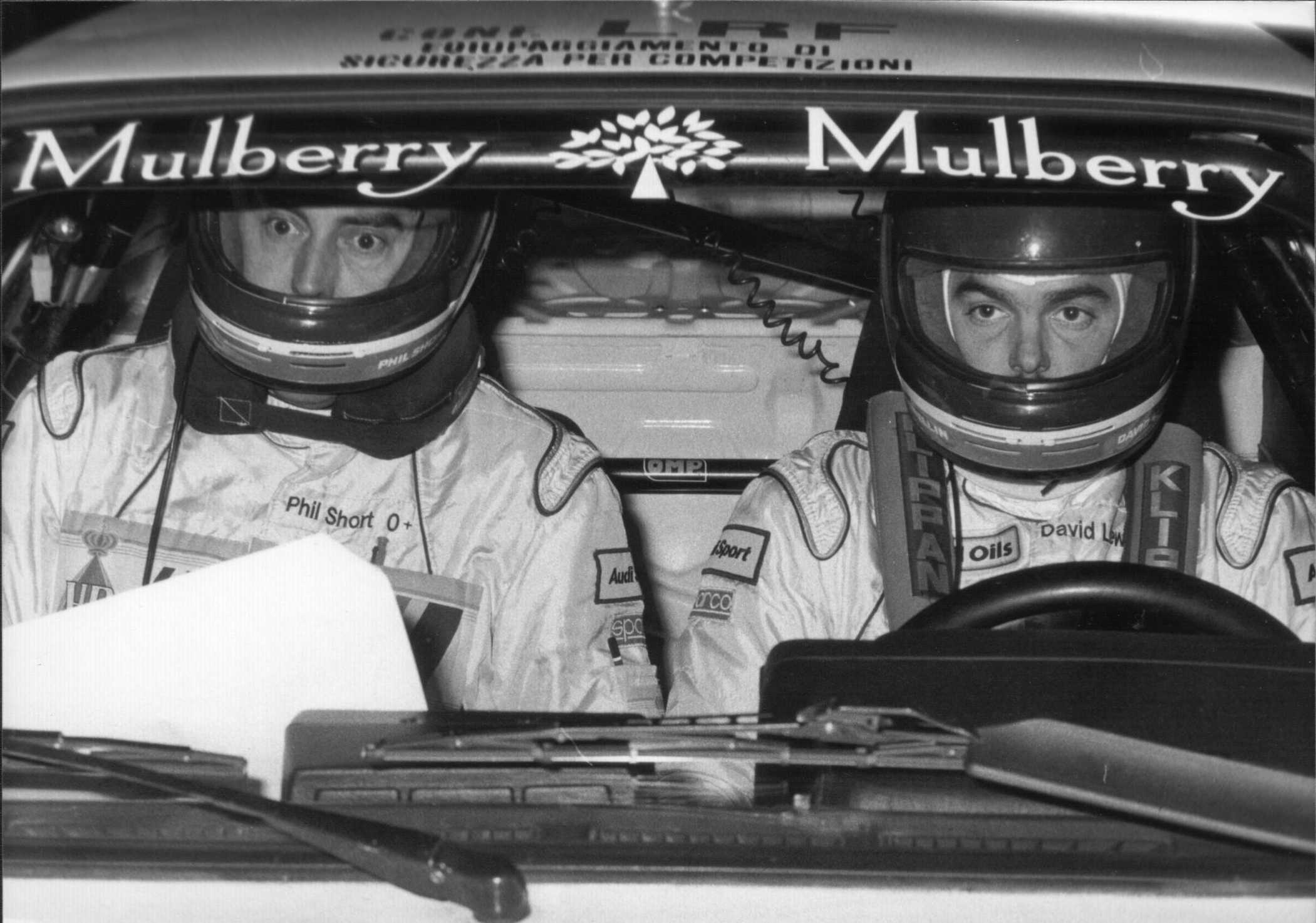 Bruno + Bentivolgi, Memorial Bettega 1987, Audi Sport Europe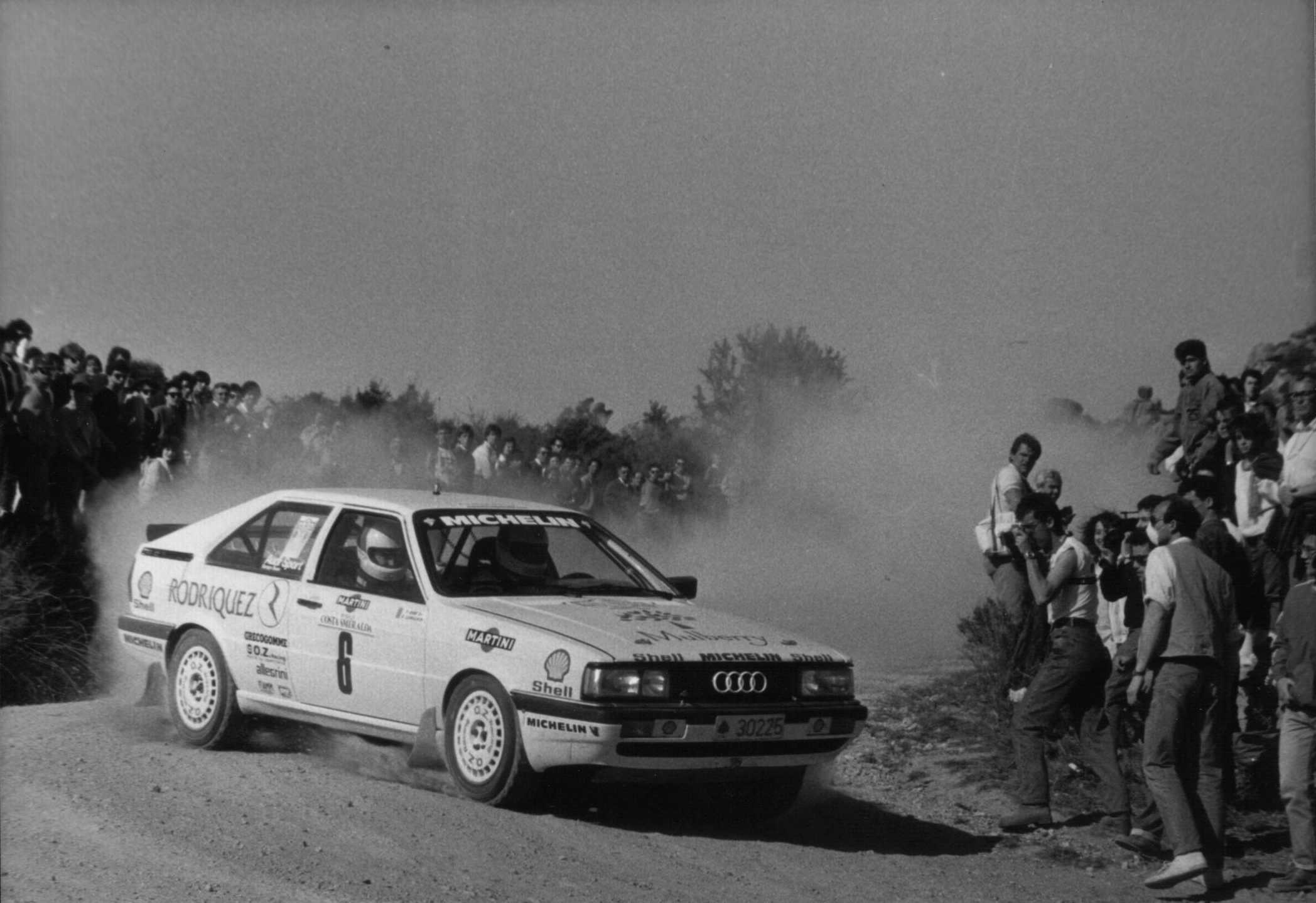 David Llewellin and Phil Short, Rally Costa Smeralda 1987, Audi Sport Europe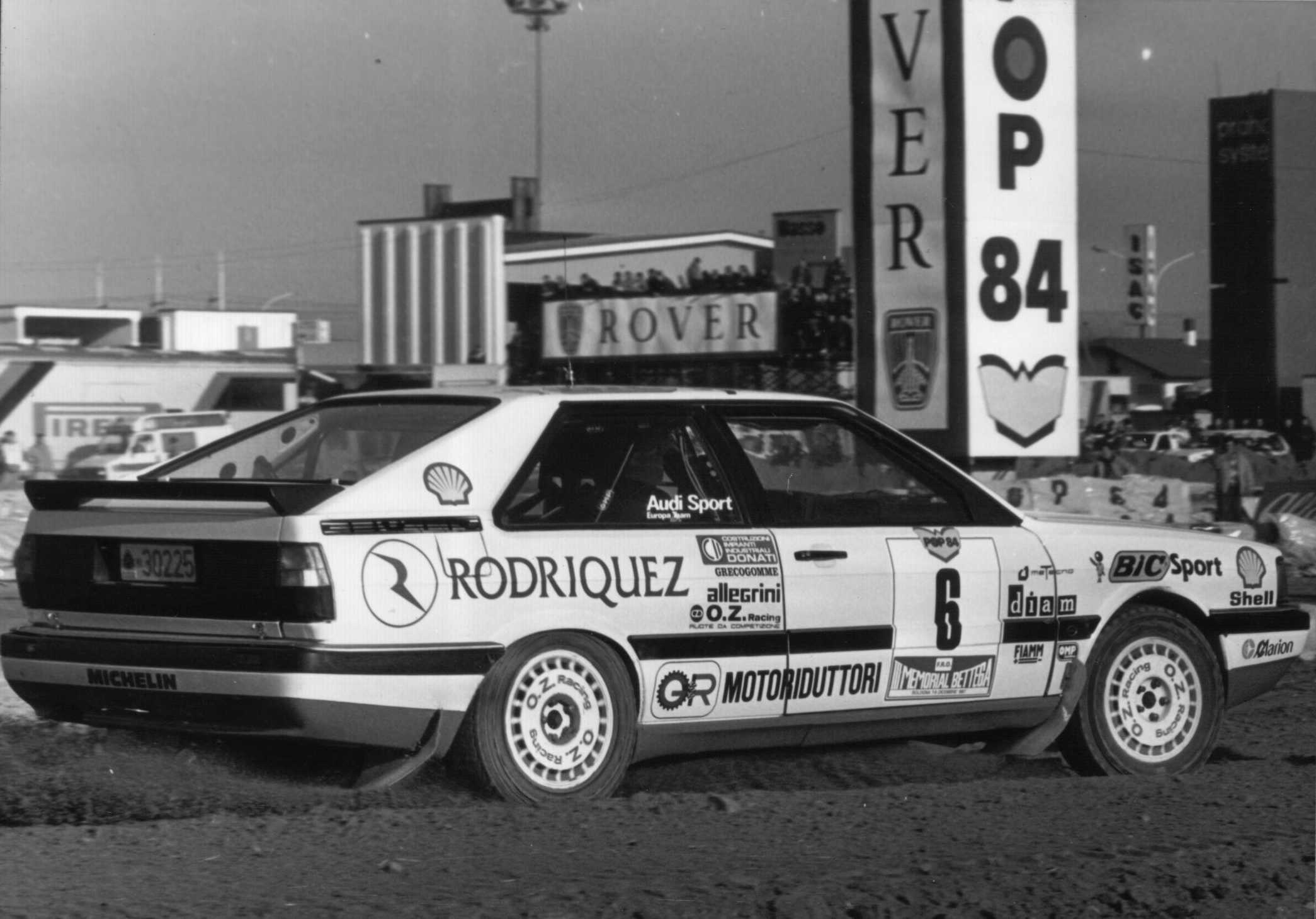 Audi Sport Europe Original Sticker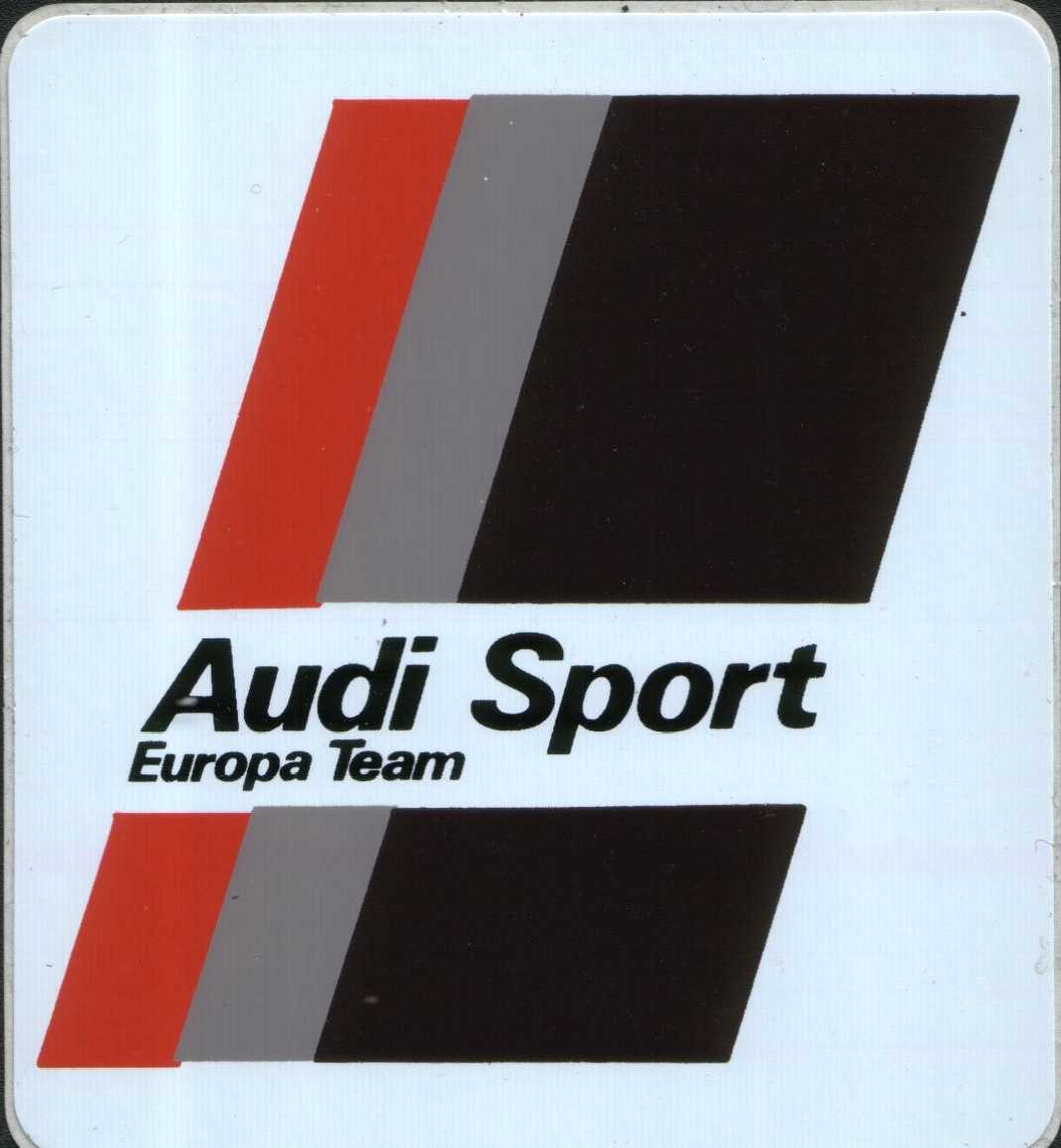 Jari Latvala

With gratefull thanks to Jari for providing the following article and photos
Jari Latvala and the Coupe Quattro